Angry cabby drives man on bonnet to police station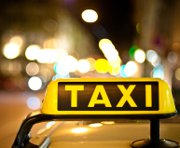 At the height of a fight between a 22-year-old man from Leiden and a 31-year-old taxi driver in The Hague last week, the former jumped onto the bonnet of the vehicle. The taxi driver then got into his car, and drove to the police station with the 22-year-old still on it.
Charges were entered against both men when they arrived. On the way over, the man from Leiden also managed to punch the windscreen so hard it cracked, AD reports.
(Photo by Ben Fredericson, some rights reserved)