Bureaucrats want to remove commissioned wall graffiti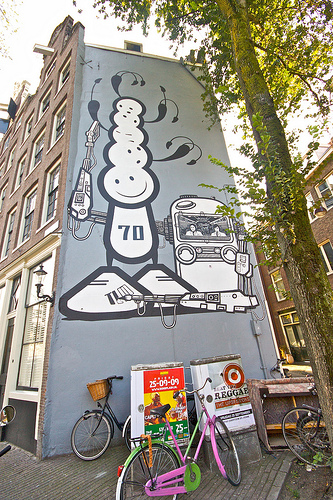 An entire year after having been commissioned by the City of Amsterdam, a wall graffiti with annexed garden downtown on the Prinsengracht by The London Police apparently has to be painted over, as it doesn't 'embellish' the area of downtown Amsterdam it is in. Nonsense!
Seasoned Amsterdam residents know that this bit of nannyism is bureaucrat code for 'we're still trying to get Amsterdam on the Unesco list and this probably won't help'.
Why was it put up in the first place? Why take one year to devalue something you've ordered? Who complained about it? Does it have something to do with Amsterdam's new, slightly more conservative mayor Eberhard van der Laan? Was someone bored at work?
Funny, Miami, New York, Munich and other big cities around the world have no problems with their London Police wall graffiti at all.
(Link: parool, Photo of Graffiti by London Police by Pierrot, some rights reserved)
No Comments »
No comments yet.