Google to scan 160,000 National Library books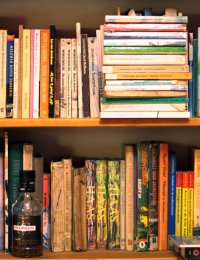 Google books has received the green light on 14 July from the Dutch National Library to scan more than 160,000 public domain books from the 18th and 19th centuries. The scanned books will then be available on the library's website and on Europeana, an online library with six million books. Scanning is going to take years, after which the books will be available again physically in the library. We wrote about the library's ambitious plans earlier this year.
The collection features a wide range of historical, legal and social works, including Jan ten Brink, author and professor of Dutch literature, tutor of great Dutch author, Louis Couperus and L.A. te Winkel and Matthias de Vries, co-editors of the Dictionary of the Dutch Language.
According to Nrcnext as well as the Seattle Times, there is a worry that by being the sole administrator of all these books as well as turning a profit on them, Google will have too much power over the digital book market. "Our cultural heritage is not Google's to have," explains Geert Lovink, a media theoretician, in Nrcnext. He believes other companies can handle some of the scanning and distribution as well, even though he thinks the generally idea is good.
(Links: nrcnext.nl, kb.nl and seattletimes)
No Comments »
No comments yet.