Solo sailing girl off to sail around the world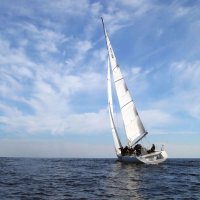 It sounds a lot like a soap opera: daddy was all for it, mommy was too, then she changed her mind. Lawyers got involved, child services got involved and stalled last year's plans, and then the girl 'threatened' to emigrate.
Then, the Dutch public had their opinion, which ranged from 'let the girl do her thing, you only live once' to 'what kind of horrible parents lets a teenager sail alone it's dangerous', as if the parents couldn't vouch for their daughter's talent. I couldn't resist mentioning that Mike Perham and Zac Sunderland, both boys, were encouraged for their feats and wondering if Laura Dekker was a boy would that have made a difference.
And to ward off future criticism, if and when Laura Dekker does become the youngest person to sail around the world solo, all the Dutch, including the ones with the forked tongues will be all thrilled that she did it after all. If she crashes and burns, I'll let you go all out in the comments, but for now, let's see what happens first and comment later.
(Link: dutchnews.nl, photo of an entirely unrelated boat by the US Navy)
No Comments »
No comments yet.