Gr'omnibus, Groningen's underground comics talent collected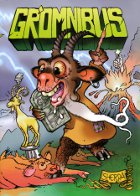 Martin Wisse has got a good tip:
A can't miss bargain to be had at De Slegte in Amsterdam right now: copies of Gr'omnibus, a treasure trove of sequential art from Groningen, the Athens of the North; an invaluable treasure now yours for only two euro fifty! Why you should bother? Because you get to sample some 40 odd (some very odd) Dutch (as well as the occasional furreign) cartoon talents, culled from the pages of one of the most consistent of Dutch underground comix zines, Gr'nn.

Groningen (Grunn in the local dialect) is one of [the interesting cities outside the Randstad], a university town big enough not to be overwhelmed by it with a decent local art scene and night-life, a city in which over the years a thriving alt-comix scene has been established.

In 1996 a few of them started Gr'unn, which since then has published a lot of up and coming cartoonists. People like Barbara Stok, Mark Hendriks, Amoebe, the Lamelos collective, Marcel Ruijters, Reinder Dijkhuis, Berend Vonk, all had strips in Gr'nn. […]

So if you're in Amsterdam and you want a cheap way to sample a huge chunk of the contemporary Dutch comix scene, go get Gr'omnibus from de Slegte. It's in the middle of Kalverstraat so even tourists should be able to find it.
He is right you know, and today I grabbed myself one of the last four copies. You guys need to hurry!
De Slegte is a chain store for second hand and remaindered books, and very popular in this book-mad country.
Illustrations: cover artist unknown, Vlerk, Jan Krol, and Nico Visscher respectively.