Netherlands wins world champion Stratego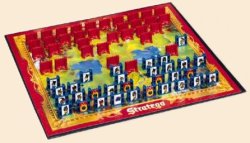 Out of four countries represented — the Netherlands, Belgium, Germany and England — the Dutch won this year's Stratego World Championships, held in Maastricht. With six victories and four draws Pim Niemeijer of The Netherlands became the new individual Stratego World Champion. Last year, Steffen Annies of Germany won the Stratego World Champion of 2009, the year before, Pim Niemeijer had won it.
And then we also wrote about a women's championship, also won by a Dutch woman in Kiev back in 2008.
There are also Computer Stratego World Championships held around the world and there's also my co-blogger's time-old classic of placing all five of his bombs around his flag.
Stratego is a Dutch game published by Jumbo that was distributed internationally by Milton Bradley, giving the impression that the Americans came up with it, if you read Wikipedia. Read more about Stratego history with pics galore on Ed's Stratego Site.
(Links: ad.nl, isfstratego)