Recruiting students for sex line causes a stir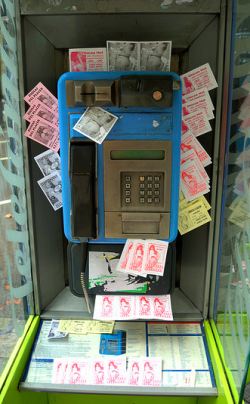 In the Student Handbook 2010-2011 for students in Breda there's apparently a two-page advert to get students, most probably girls, to work for phone sex lines. While students usually work at the supermarket for about EUR 7,50 or so an hour, talking dirty on the phone pays a cool EUR 24 an hour, which is a lot of money for a student. The advert has a funny title as well: 'Geld verdienen met lullen' ('Earn money with talking', although 'lullen' (infinitive verb) just happens to be the plural of 'cocks' as well). The students have to be 18 years of age to be hired.
Why did this make national news? Well, it preys on poor students. However, a job is a job, the company is legit and I don't really see the problem. I know for a fact that talking dirty as a job for money is hard work because when I was a student, I used to translate such delightful phone messages before all of this was online for good money. Some of what you hear is very difficult and not funny or sexy at all. I can't even imagine being the one answering to or saying these things on the phone for hours on end. The students deserve that EUR 24 an hour.
(Link: kijkditnou, Photo of Phone booth in Buenos Aires by Javier Volcan, some rights reserved)