Temporary reduction of sales tax on renovations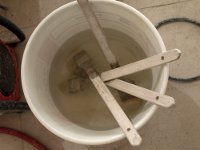 Government ministers De Jager (Finance) and Middelkoop (Housing) have announced a temporary lowering of the sales tax on home make-overs from 19% to 6%.
The reduction is to take effect on October 1, 2010 and will last until July 1, 2011, Telegraaf reports. The care-taker government hopes that this will soften the blow of the crisis for the building sector.
Some of the rules for the lower tax are:
Only for houses of two years and older.
Only for labour costs.
Only for improvements that will raise the resale value of your house.
(Photo by Yola de Lusenet, some rights reserved)
No Comments »
No comments yet.