Wikimedia's September photo hunt for monuments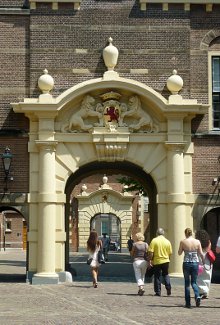 During September the Dutch Wikimedia chapter (the people behind Wikipedia) are calling upon everybody to send in correctly licensed photos of official national monuments, so that Wikipedia can use the uploads.
The Wiki Loves Monuments site has posted a very long list of the monuments, divided by province and town, and tagged with the exact geographic location, so that participants who would like to take fresh photos can easily plot a hike through their neighbourhood.
There is a competition attached to the event, with an iPad being the first prize, and an HTC Desire the second. You have until September 30 to upload your photos, and you don't have to limit yourself to photos taken this month.
An earlier similar and very successful event was called Wiki Loves Art, and was held in June 2009, resulting in about 5,000 Creative Commons licensed photos. That the current edition is held in September is no accident, as the Open Monuments Day on September 11 gives a lot of access to (the inside of) monuments that are closed the rest of the year.
(Link: Wikimedia.org. Photo by Wikimedia user PVT Pauline, some rights reserved.)