Yellow fungus returns to the Netherlands after 55 years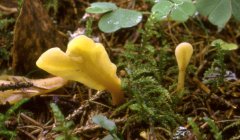 The Netherlands was still clinging to its delusions of colonial grandeur, Robert Jasper Grootveld was still just a window cleaner, and the province of Flevoland had yet to rise from the sea when the spathularia flavida, a fungus also known as the yellow earth tongue or yellow fan (wiki dixit), was last spotted in this country.
Fifty-five years on, and Bert Oving discovers thousands of them in the Vledder forest of East-Groningen, near Germany. Trouw adds that because of the wet and yet warm weather several other rare species have returned this year, among them the red cage (clathrus ruber) and the octopus stinkhorn (clathrus archeri).
Media Stadskanaal has photos and a video. My camera is aching to go hiking.
(Photo by Irene Andersson, some rights reserved)
No Comments »
No comments yet.