John's Phone, 'dumbphone' with modern capabilities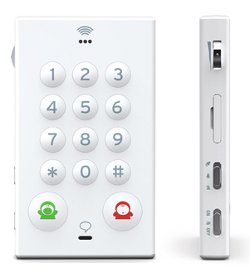 A designer 'dumbphone' from the Netherlands: ad agency John Doe from Amsterdam came up with this 80 euro marvel called John's Phone, and as the price tag suggests they actually put it in production!
Dumbphones, mobile phones that stick to telephony and SMS, are nothing new, but so far have generally been aimed at people who did not need all the features a modern phone has to offer, like the elderly. John's Phone on the other hand seems aimed at "those who are willing to pay extra to have less" as one BoingBoing commenter puts it.
Publishing an article about a mobile phone brings with it the grave responsibility to produce a spec list, so here goes:
No simlock
Quad band
A choice of one ringtone (pre-selected)
Always-on address book (paper, with pen)
Caller ID
1200 mAh battery (estimated 3 weeks stand-by time)
Hands-free mode with included earphone
10-number memory
Size: 10.5 x 6 x 1.5 cm
Weight: 95 grams
BoingBoing readers (presumably Americans) lamented the lack of compatible service plans, which makes me guess not every country has SIM-only plans, which can be had for as little as 3.50 euro a year. The lack of texting seems a more serious problem: if I see a 06 number (Dutch mobile phone number), I expect to be able to text to it.
(Source photo: John's Phone. Also check the ad agency's Flash site for more complete details of the phone.)