iPhone app developer catches iPhone thief using his app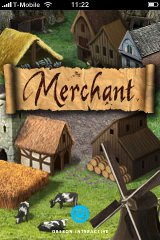 A thief stealing an iPhone got caught after logging into the online game Merchant, Bright reports.
The phone belonged to Merchant developer Richard Osinga who kept an eye out for his phone's IP number, and sure enough the dumb thief decided to try out the game and inadvertently handed himself in that way.
Osinga's blog does not mention what data he collected to be able to find the thief. It took the police half a year to catch the criminal, but last Thursday they finally could report to the victim that they had got his iPhone back.
(Photo: Merchant.)