Internet use of lesser educated people trumps that of better educated people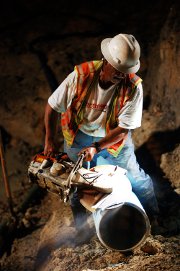 Says the Trend Report Computer and Internet Usage 2010 of the University of Twente (PDF, p. 54):
The differences [in the amount of Internet use] are the most noticeable where education and social position are taken into account. On average people with a lesser education use the Internet more per day than people with a higher education— some 3.1 as compared to 2.6 hours. The unemployed and people unfit for work use the Internet on average 4.0 and 4.1 hours respectively per day, whereas working people average 2.6 hours. This suggests that the available time is an important factor. […] In the past 20 to 25 years it was the better educated who were the pioneers of Internet access.
The report unfortunately does not define 'better educated' and 'lesser educated' (in fact, it measures along three education levels, but does not define any of them).
Also notable is that the higher educated use the Internet far more to educate themselves further than the lesser educated do. (p. 41)
(Link: Blik op Nieuws. Photo by Woolie Monster, some rights reserved.)
No Comments »
No comments yet.