Free beer for girls in Limburg town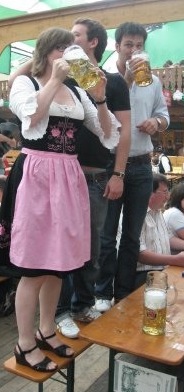 The owners of a few pubs in Weert, Limburg have decided to give free beer, wine and even kir (how classy) on the house to girls, so that boys stay away from those illegal beer-serving non-pubs called 'zuipketens', modern-day Dutch speakeasies that have apparently increased in popularity since the smoking ban. By stay away I do mean come to their pubs instead because they have tipsy girls in them.
Free drinks are sure to get a few more girls into the pub, but at a cost and not on the long run. And then there's the morally questionable idea of getting girls to drink more, knowing they get drunk more quickly, and all that jazz. The drinking age in the Netherlands is 16, an age when kids are not legally responsbile adults, which is also a major problem in smaller communities where there's not much to do but drink — like in Weert, Limburg.
Back in 2008 we wrote about beer confiscation in Urk, a very religious town in Flevoland whose youth is drinking their youth away because there's nothing to do there.
(Link: telegraaf.nl, Photo: me at Oktoberfest. If the Telegraaf can use a German picture for a Dutch article, so can we.)
No Comments »
No comments yet.