Beer confiscation in Urk is too efficient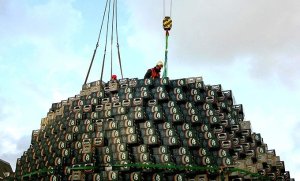 The youth of the fishing village of Urk, Flevoland, more often than not portrayed as bored and up to no good, do enjoy their beer. Basically, if we believe the hype, Urk is a religious and conservative village where the youth have nothing to do. Online media gladly portrays them as 'white trash'. The fact that they speak an old dialect of Dutch makes them the butt of jokes as well, sadly enough.
Since the kids are bored and turn to drinking, the mayor has decided to monitor this 'alcohol abuse' more closely, which apparently has been extremely successful, although I cannot vouch that this picture of just one type of beer reflects reality or an indirect marketing scheme. The Urk police station has been taken over by full crates of beer and claim that they will destroy these crates.
Is it just me or is that not very environmentally friendly? Do they plan to burn the plastic crates and throw away bottles? Why can't they sell the beer at a country fair? I have so many questions.
(Link and photo: rtl.nl)
6 Comments »