Even gossip queens have a right to privacy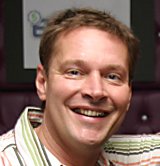 The Court of Appeal in Den Bosch has recently ruled that the public prosecutor must start a case against reporters Sophie Hilbrand and Filemon Wesselink for spying on TV presenter Albert Verlinde and his husband, Onno Hoes.
Ironically, Albert Verlinde is one of the presenters of TV gossip programme RTL Boulevard, and Onno Hoes is the Mayor of Maastricht—between them they must have committed more privacy violations than all the hidden cameras in girls' locker rooms the world over combined.
Volkskrant reports that reporters Sophie Hilbrand and Philemon Wesselink installed audio recording equipment in an award they presented to Verlinde, the 'Golden Ear", with which they successfully recorded a discussion Verlinde and Hoes had in the car on their way home. The public prosecutor had already fined the reporters, so that they now get punished for the same offence twice. For the record, double jeopardy—or ne bis in idem as it is called here—is illegal in the Netherlands.
(Photo of Albert Verlinde by Thomas van de Weerd, some rights reserved)