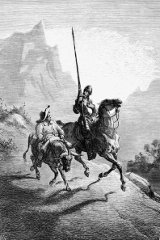 German windmills are disrupting the proper spying on Dutch citizens by the Dutch military secret service MIVD, or so the latter complains.
The Ministry of Defence has complained to the municipality of Vreden (Germany) about the fact that it allows the placement of wind turbines so near to its spying antennas (14 kilometres), Ravage reports. Vreden has already limited the height of its turbines and is currently amending its rules for the placement of new turbines.
According to Webwereld, 25 Dutch citizens lost their jobs in 2009 and 2010 when the Ministry of Defence destroyed their employer's business model of providing medium distance, high speed wireless internet (wimax). After the ministry had told Worldmax that it was forbidden to roll out its services in the entire north of the Netherlands, the wimax provider had to close its doors, losing dozens of millions of euro in the process.
Vreden is planning a farm of 24 wind turbines in or near the Crosewicker Feld nature reserve and is getting some resistance from its citizens, according to Münsterland Zeitung. The locals don't share the concerns of the Dutch military, but are unwilling to have to look at the turbines all day. They want the distance from the turbines to their house increased from the proposed 400 metres to at least 500 metres. (This has led to an interesting legal paradox where the council members who live too close to the proposed wind farm are not allowed to vote on what constitutes 'too close'. The Germans call this conflict of interest Befangenheit.)
Illustration: renowned windmill fighter Don Quixote by Gustave Doré, 1863.