Gays marry less than straights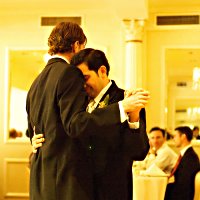 April 1 marks the tenth anniversary of gay marriage in the Netherlands. In that period some 15,000 same-sex couples got hitched here, making 1 in 5 same-sex couples married. Four in five heterosexual couples are married, AD reports.
Jan Latten of Statistics Netherlands told the paper that gays marry for the same reasons as straights—love, children and security—, that the relative number of divorces between the groups are virtually the same, and that both groups have the same preferences for wedding months: "spring and summer".
See also:
(Photo by CarbonNYC, distributed under a Creative Commons Attribution 2.0 Generic license)