First ever homosexual wedding fair in Amsterdam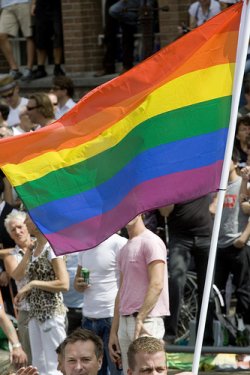 While the first ever Latin American same-sex couple recently got married in Argentina and another one got arrested for doing so in Malawi, Amsterdam will hold its first ever wedding fair for gays and lesbians on February 14, Valentine's Day 2010. The fair will feature some 50 stands at the Westergasfabriek in West Amsterdam. Already married same-sex couples can visit the fair for free upon showing their marriage certificate.
Since 1st April 2001 gays and lesbians have been allowed to marry in the Netherlands and it was the first country to allow same-sex marriages.
(Link: depers.nl, Photo of Gay flag in Amsterdam by Remon Rijper, some rights reserved)
2 Comments »
A bit of an afterthought, huh? The whole gay marriage craze is not so crazy anymore.

Comment by Darth Paul — December 30, 2009 @ 7:41 pm

[…] First ever homosexual wedding fair in Amsterdam […]

Pingback by 24 oranges » Gays marry less than straights — March 27, 2011 @ 12:39 pm