Dutch scuba divers break World Record Underwater Ironing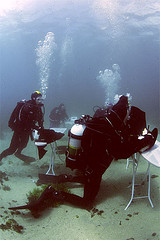 Yesterday, scuba diving club De Waterman in Oss, Brabant got 173 divers together to break the World Record Underwater Ironing. The former world record was held by a Polish scuba diving club with 130 divers. De Waterman said they worked really hard, right up to the last minute to find enough divers and enough ironing gear.
De Waterman can now proudly be included in the Guinness Book of Records just in time for the club's 40th anniversary.
(Link: depers.nl, Photo Photo of Underwater ironing by BlueBeyond, some rights reserved)
No Comments »
No comments yet.