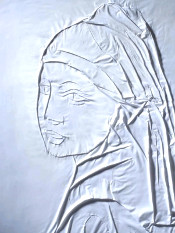 A Philips ad for the company's line of irons has been doing the rounds on the Internet.
In it an anonymous artist recreates portraits by famous Dutch painters such as Girl with a Pearl Earring by Vermeer and self-portraits by Van Gogh and Rembrandt using little more than a white sheet and a steam iron.
The ad was made by the Russian branch of DDB, a worldwide advertising agency.
(Photo: crop of the video. Link: Trendbeheer)