Teenager's boastfulness costs him 370,000 euro poker prize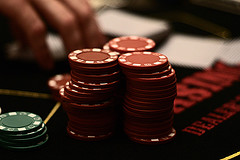 In March of this year the Jonker family of Kerkrade in Limburg seemed to have struck gold when father Jos (47) reached sixth place in an online poker tournament, netting him a cool 370,000 euro. The happy story turned sour quickly when 17 year old son Jimmy was found boasting in online forums that it was him that had been playing the finals, drawing the attention of organisers PokerStars.
Yesterday PokerStars decided that since it was against the rules for the underaged to play, it would not pay out the sum to either of the Jonkers, opting instead to donate the prize to an organisation that tries to promote responsible gambling by battling, amongst others, gambling by the underaged, AD reports.
Jimmy Jonker had been participating in the tournament using his father's account, and the handle Zeurrr (Whiiine). The Jonker family refused to comment to the newspaper.
The Sunday Million tournament had almost 60,000 people compete for 11,825,600 US dollar in prizes.
(Link: PokerStrategy.com. Photo by Jam Adams, some rights reserved)
No Comments »
No comments yet.