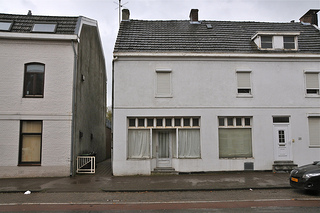 As people are moving from Kerkrade, Limburg to the connecting city of Herzogenrath, Germany due to cheaper house prices, Kerkarde discusses how it could ever become a true European cross-border city with a mix of Dutch and German rules and regulations. It's one thing to regroup a bunch of Dutch cities into a collaboration like Parkstad Limburg, which includes Kerkrade, it's another to run a city within two countries that have their own laws, language and culture.
In 2012 two-third of emigrants in Herzogenrath came from Kerkrade, sometimes even on the same street: Nieuwstraat in Kerkarde, Neustrasse in Herzogenrath. And if you move down the street to another country, you're still an emigrant. Even your mobile phone provider doesn't know where you are half the time, and I'm often told that the border people speak dialect on both sides and understand each other perfectly.
The mayor of Kerkrade Jos Som has to deal with the differences in legislation every day: "Sometimes we use Dutch law, sometimes German law, and sometimes no law at all". He explains that it can be rewarding or frustrating because after all it's Europe and we still have to do things together.
For true border complications there's always Baarle-Nassau, with its collection of Belgian enclaves that put Google Streetview to the test.
(Link: www.binnenlandsbestuur.nl, Photo of Kerkrade by FaceMePLS, some rights reserved)