Get blue on June 25, Global Smurf Day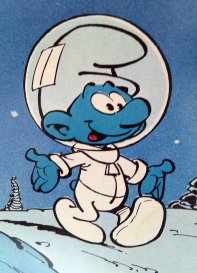 On Saturday, June 25, Global Smurf Day and birthday of Peyo (Pierre Culliford) (1928-1992), the Belgian creator of the Smurfs comics, 12 countries, including the Netherlands, are going to see people paint their bodies visibly blue to try and beat the world record "Largest Gathering of People Dressed as Smurfs within a 24-hour period in Multiple Venues". For smurf fans living in the Netherlands, you are to get your painted, disguised self down to Scheveningen, South Holland at beach pavilion 53. You can't miss it, there'll be a big smurf sand sculpture and people looking like smurfs. The current world record dates back from 2009 in Wales, with a mere 2510 people posing as smurfs.
To my adult friends who own smurfs — you know who you are — I dare you to free up June 25 and get to Scheveningen dressed like smurfs and send in pics.
Find out more at globalsmurfsday.com
(Links: waarmaarraar, independent)
1 Comment »