Oldest supermarket employee dies at 100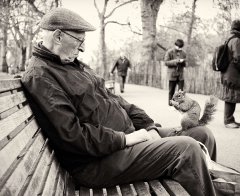 On Monday, 20 June, Jan Leugs, who worked at the local supermarket in Ten Boer, Groningen, died at age 100. Even at his age he worked two mornings a week and could still drive a car, which is why this made the news. They say he was a very cheerful man, but got suddenly ill and passed away. RIP.
(Link: telegraaf.nl. Photo of elderly man by Frank Mayne, some rights reserved.)
No Comments »
No comments yet.