Lady Gaga goes Dutch design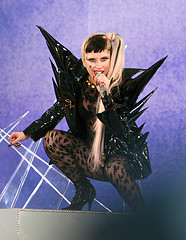 Bart Hess, 27, from Eindhoven was asked to design a 'slime dress' (pic) for Lady Gaga. "I was given free reignrein. It had to have something to do with the album title 'Born This Way'. The trick was to make sure that the colours were perfect and that it would also stay in place that way." He went to New York to the photoshoot to slime Gaga into her dress.
Lady Gaga is also rumoured to have been asked to open an exhibition about her at the Groninger Museum, Groningen. Museum director Kees van Twist managed to get singer Bono of U2 to open the exhibition of work by Dutch photographer Anton Corbijn, so I bet he's confident he can pull that trick off again.
(Link: ed.nl, Photo of Lady Gaga by TJ Sengel, some rights reserved.)
5 Comments »