Weather prediction for the next ten years—rain, rain, rain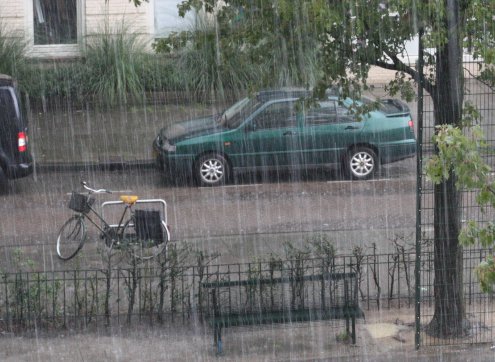 It's been raining a lot here this summer—I thought I'd share the pain (and the view from my window) a bit.
Meanwhile, Noordhoff publishers and the Dutch weather office, KNMI, presented a climate atlas last week. Some interesting tidbits:
* Worldwide the temperature has risen 0.7 degrees Celsius over the past 50 years, in the Netherlands that was 1.4.
* The temperature in Amsterdam averages 11 degrees Celsius over the past thirty years, which is the same average as Lyon (in the South of France) had thirty years ago.
* The rainiest places in the country are the Veluwe (the nature reserve in the middle of the country) and the North of Amsterdam.
* The skies released 850 litres water per square metre on average; 100 years ago that average was 700 litres.
Since we're in the middle of a period of global warming, it is expected that these trends will continue (though KNMI is hedging its bets).
Update August 31, 2011: Dutch News: It's official: this is the wettest summer since 1906.
(Links: Parool.nl, Vereniging voor Weerkunde en Klimatologie)
No Comments »
No comments yet.