Bank managers give cheaper loans to customers of the same sex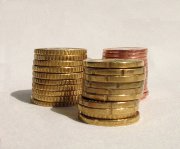 If you want to save as much as 0.3 percentage points on your interest rates, close a loan with a bank employee of the same sex.
Thorsten Beck, professor at Tilburg University, claims that there is a measurable difference between how loan officers of microcredit lenders treat customers of the same and of the opposite sex. His report Sex and Credit: Is There a Gender Bias in Microfinance (PDF), co-written with Patrick Behr of the Brazilian business school Fundaco Getulio Vargas and Andreas Madestam of the Bocconi University in Milan, focused on lenders in Albania.
The reason they looked at microcredit lenders is because they do not use standard interest rates the way regular banks do.
The chance that opposite sex customers return for a second loan is 11.5 percent smaller, econtrack.nl reports.
2 Comments »
It'd be interesting to read the speculations as to why this is true. Another peculiar question is: are Albanians an exception or the rule?

Comment by Kalin G — September 19, 2011 @ 9:13 pm

This is pretty interesting. I'm sure little psychological nuances like this affect innumerable aspects of our lives. Pretty cool if you ask me.

Comment by Lauren — September 20, 2011 @ 4:47 am