Four of the 10 dirtiest hotels in Europe are in Amsterdam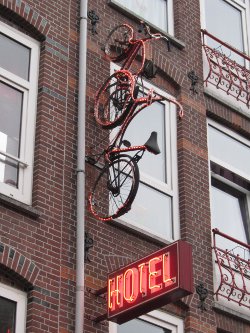 Amsterdam has four hotels on the 2011 Dirtiest Hotels list on Tripadvisor.
First and second place are in Turkey, 3rd, 4th and 5th are in London, 6th and 7th are in Amsterdam, 8th is in London, and 9th and 10th are in Amsterdam. Recap: Turkey = 2, London = 5 and Amsterdam = 4.
Last year's list is mostly shameful for the UK with 8, Italy with 1 and the Netherlands (Amsterdam) with 1.
"Free mice with every room!" and "All the sheets were spotted with hundreds of red dots." sound quite disgusting to me.
(Link: welingelichtekringen.nl, Photo is of a reputable, bicycle friendly hotel away from the nasty downtown hotels)
No Comments »
No comments yet.