Reporter nicks 30 kg worth of Khadaffi's stuff, isn't sorry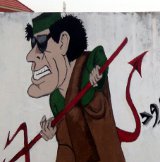 Business news site z24 reports that Harald Doornbos, a Dutch reporter who works for press agency GPD amongst others, has taken 30 kilos worth of goods from former Libyan president Khadaffi's home.
The alleged loot contains a map, family photos, posters and the passport of the cat of the dictator. Legal experts told the news site that even though it is doubtful that Khadaffi would or could take any legal action, the provisional government could claim ownership of the ex-leader's possessions.
Doornbos announced this on October 5 on Twitter.
When confronted with the legality of his actions, Doornbos tweeted cryptically: "That is why I haven't lived in the Netherlands for 18 years." Later: "If I had not taken these things, they would have been burned half an hour later anyway, good bye history." Even later: "Discussion closed. You can see stuff in a museum/gallery in the Netherlands soon. Suggestions [for a venue, presumably] still welcome."
(Photo of a karikature of Gadaffi in Benghazi by Maher27777, who released it into the public domain)
No Comments »
No comments yet.