Sailor boycotts prize because teenage girl Laura Dekker is also in the running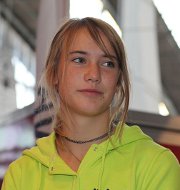 Somebody called Lucas Schröder has rejected his nomination for the prestigious Conny van Rietschoten Trophy, nauticlink.nl reports.
Schröder does not want his achievements to be compared with those of Dekker: "Many will inevitably see Laura's nomination for the Netherlands' most important sailing award as a collective opinion of the sailing community. This makes me feel so uncomfortable that I request you no longer consider me a candidate for your trophy." Dekker's solo global circumnavigation attempt has stirred controversy both inside and outside the Dutch sailing community.
It is unclear to this blogger what Schröder's achievements are supposed to be. Nauticlink mentions his participation in an endurance race called Mini Transat, in which sailors cross the Atlantic Ocean in 6.5 metre boats. Schröder recently achieved a tenth place in that race.
The foundation that awards the trophy writes on its website that it regrets Schröder's decision, and abstains from further comment. Schröder, whom I had never heard of before, managed to get a lot of free press with his action.
Laura Dekker in the meantime is busy crossing her third ocean in a row, the Indian Ocean. She is keeping mum about the route she is taking, as she doesn't want to put ideas into the heads of Somalian pirates—which to me strongly suggests she is going for the Suez route.
Update 14-11: it turns out Laura is taking the South-African route after all. She has just arrived in Durban.
See also: Teenager attempts sailing solo around the world record.
(Photo of Laura Dekker by Wikimedia Commons user Savyasachi, some rights reserved)
1 Comment »
Lucas sounds like a misogynist passive-aggressive male in the making :)

Comment by Orangemaster — November 14, 2011 @ 9:32 am