Teenager attempts sailing solo around the world record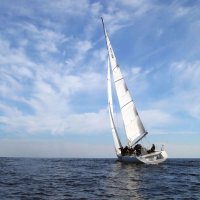 Laura Dekker, 13 years old, is planning to attempt to sail around the world solo between 2009 and 2011, Algemeen Dagblad reports (Dutch). The current record is held by Zac Sunderland of the USA who finished his journey at age 17.
Dekker's plan has drawn comments from naysayers who feel she is too young, should be in school, and who think her parents are irresponsible. Her response to these comments is one of indifference: "To be honest, I had expected the comments to be even worse. People do not know what they are talking about, so I won't let it get to me."
Preparations are going well, according to Dekker's website. She will be sailing a Hurley 800, a boat made in Twente, and she will send and receive her high school homework using e-mail (she is still looking for a satellite phone, though). Dekker hopes to set sail this September.
(Photo of an entirely unrelated boat by the US Navy.)