Banner vending machine world premiere at Schiphol airport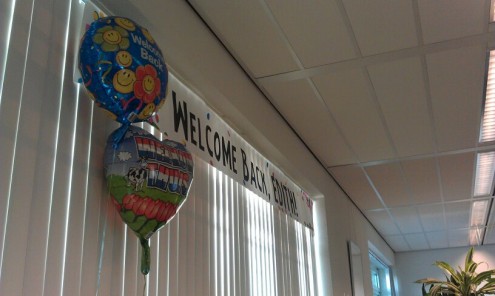 A Facebook friend of mine just tried out the new banner vending machine at Schiphol airport to decorate a colleague's desk for when she comes back on Monday. Nope, she's not on Facebook, so it'll be a surprise.
The banner vending machine is billed as a world premiere, or at least the first ever installed in an airport. The vending machine can be used in English, Dutch, Spanish, French and German, and offer three products: a name board (3.95 euro), banner (9.95 euro) and a big banner (14.95 euro).
The demo woman made a Welcome Home (why in English?) with windmills and clog trimmings, which she then tried to give away to some Dutch person waiting for loved ones. The first man flatly refused, saying it wouldn't be appreciated, while the second person thought it was odd. The entire outside lettering of the machine is in Dutch, which means it's not really aimed at foreigners. You can only use bank card (maybe credit card), but not cash it seems from the video.
The banner vending machine seems like a great idea, but I for one was greeted by surprise at the airport two weeks ago coming back from Cork, Ireland with my roller derby team and I wouldn't trade in their homemade signs for the world.
(Link: rnw.nl, Photos: Marie-Claude Falardeau-Dekker and Kirsten Gesink)