Twisted bicycle bridge across the Vlaardingervaart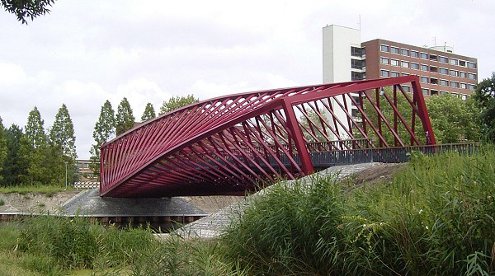 At first glance it looks like this bridge in the Netherlands was an engineering failure […]. But this is how the architects designed and built it to look, and it works just fine.

It's a [42 metre] pedestrian and bicycle bridge that connects the Holy-Zuid district with the Broekpolder, in the city of Vlaardingen. It was designed by the architects at West 8 and […] built by the metal workers at ABT.
Vlaardingen is a city near Rotterdam. Locals call the bridge The Wokkel, after a similarly shaped snack.
(Photo: ABT. More photos at Gizmodo and on Flickr show you how it works)
No Comments »
No comments yet.