Crowd sourcing a bridge in Rotterdam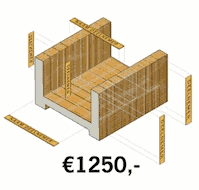 The Pop-up City writes:
The International Architecture Biennale Rotterdam (IABR) and Rotterdam-based architecture firm ZUS have launched the project I Make Rotterdam, a spectacular temporary pedestrian bridge between the city's Central and the North districts that will be financed through crowd-funding.

The bridge, which should be completed during the 5th International Architecture Biennale in Rotterdam this Spring, has to help pedestrians to get from Rotterdam's Central Station to some of the biennale's locations. But how long this new pedestrian bridge is going to be depends completely on the amount of money that crowd wants to spend on it.
A plank will set you back 30 euro, an element (5 planks) 150 euro, and a part (9 elements?) 1500 euro. The Pop-Up City has some good advice for the organizers: "translate the website to English in order to open up the project for foreign money. Isn't this an International Architecture Biennale?" I would like to add that listing prices to consumers without including sales tax is punishable with a fine of the third category.
See also: How to improve Rotterdam in 100 steps.
(Source illustration: I Make Rotterdam)