Hatert tower in Nijmegen redefines the neighbourhood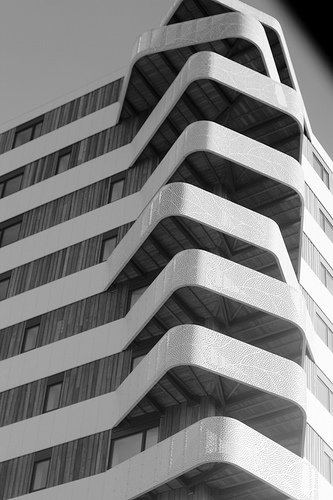 Built by 24h Architecture in Rotterdam, this residential tower can be found in the Hatert area of Nijmegen, not far from where I used to live back in the noughties.
24H architecture designed a sturdy tower with free formed balconies around, which make a recognizable sculpture from all directions; the new 'crown' of Hatert. The parking for the apartments is organized underneath a raised deck that will function as a new public space for the citizens of Hatert. Underneath the housing program the ground floor will be used as a community health centre.
Check out more pictures of this building here)
(Link: www.archdaily.com, Photo of Hatert Housing by Semur Kadal, some rights reserved.
1 Comment »
[…] city' built on a polder, which means urban planners had a field day. And we also told you how cool housing can be in Nijmegen as […]

Pingback by 24 oranges » Nijmegen to let people choose the model of their home — June 20, 2013 @ 4:24 pm