Eleven-year-old Tijmen from Gelderland gets satellite named after him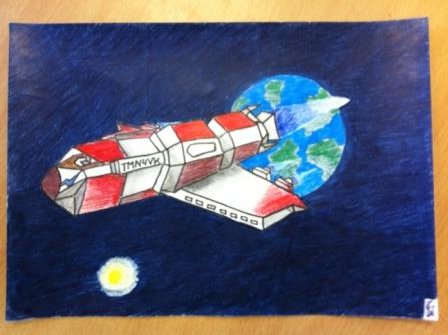 The European Union is working together with the European Space Agency to launch it's own global positioning system called Galileo. In total 18 satellites will be launched, and they will named after children from the member states who won a drawing competition.
According to Eindhoven's Dagblad, the lucky Dutch kid who will see his name immortalized is the 11-year-old Tijmen van der Kraaij from the village of Winssen in Gelderland, just West of Nijmegen. He won his prize with a drawing of the fair space ship TMN4VK (shown above) which seems like a cross between the Space Shuttle, the Soyuz and the rocket from Tintin—surely the best of three worlds.
At an award ceremony at the Space Expo in Noordwijk, Tijmen was presented with a certificate and a trophy representing the satellite that will be named after him.

Galileo is Europe's global navigation satellite system providing a highly accurate, guaranteed global positioning service under civilian control. Galileo will provide three early services in 2014/2015 based on an initial constellation of 18 satellites: an initial Open Service, an initial Public Regulated Service and an initial Search-and-Rescue Service. The Galileo Programme Satellites are scheduled to be launched in phases as of 21st October 2011 and until the constellation is complete.
Two satellites have already been launched, named after Thijs in Belgium and Natalia from Bulgaria. The winners from Slovenia and Estland are also known, Tara and Milena respectively.
(Illustration: EU / Tijmen van der Kraaij)
No Comments »
No comments yet.