Amsterdam hosts the first ever Dutch roller derby bout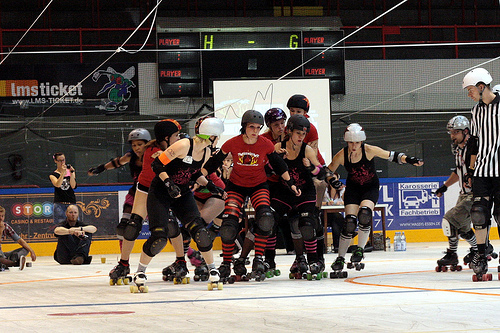 While the country was away on vacation last summer fleeing the total lack of warm weather, the Amsterdam Derby Dames, the first roller derby league of the Netherlands, trained and geared up for their first bout (official competition) in Essen, Germany.
And now another first — a historical moment if you will — is right around the corner: the girls will play their first ever home bout against the Roller Girls of the Apocalypse from Kaiserslautern, Germany. It's one thing to keep playing abroad, as they went all the way to Cork, Ireland for the second bout, but like any other sport, it's a different set of wheels to play it in front of your home crowd.
Find out more about the actual bout and tickets, and how you can be part of women's sports history if you're anywhere near the Dutch capital.
Disclaimer: I will be playing working for this bout, while Branko continues his moonlighting as an amateur derby photographer.
Here's a video that just starting doing the rounds about the sport through the eyes of derby girls on both sides of the pond.
No Comments »
No comments yet.