A tattoo gets you free films for a year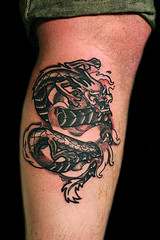 Some 18 film fans are going to get a permanent film ticket tattooed on their bodies just so they can get free entrance to films for a year. A movie theatre that operates in the towns of Almelo, Kampen and Zevenaar came up with this to accompany the latest blockbuster, The Girl With the Dragon Tattoo.
I think one year of free movies isn't enough for something as difficult to remove or permanent as a tattoo. And it's probably not a super deluxe tattoo, it's a film ticket. The tattoo artist who was hired to do the job is the one doing good business. If anyone has a pic of their work, let us know.
(Link: www.waarmaarraar.nl, Photo of Dragon tattoo by Deanna Wardin, some rights reserved)
No Comments »
No comments yet.