Stealth cheese steals show, cookbook wins in Paris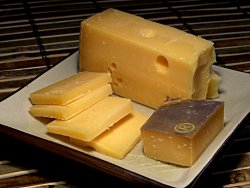 Yes, the Netherlands took first prize at the World Championship Cheese Contest in the US and kicked Switzerland off its pedestal this week, but a group of five women from Groningen also won a Gourmand World Cookbook Award in Paris recently for the cookbook, 'Koken Met Kruidnoten' by Karin Sitalsing. They won the award for the illustration of a cookbook that features a lot of 'kruidnoten' recipes from local chefs Pierre Wind and Siemen de Jong.
Back to the cheese bit: the winning cheese, Vermeer, is a low-fat Gouda type cheese by Campina from Wolvega, Friesland, and is only called by that name for export, as nobody had ever heard of it until a few days ago. Remember, this is a country that boats Australian Homemade as a Dutch chocolate brand.
(Link: www.rtvnoord.nl, Photo of totally unrelated Gouda by Jon Sullivan, released into the public domain by its author)
No Comments »
No comments yet.