Wifi roll-out on Dutch Rail trains progressing as scheduled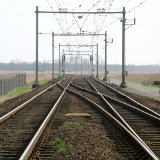 Each month ten Dutch Rail trains are equipped with free wifi, so that all 365 trains should have wifi by the end of 2013, Webwereld reports. This is according to schedule.
Currently wifi is free. Dutch Rail still has to decide if it will start charging money for usage after 2012. The national government gave Dutch Rail a 15 million euro subsidy for putting wifi on its trains.
In 2011 the number of trains featuring free wifi doubled, but usage quadrupled. Data rate and session length have stayed the same, 9MB and 40 minutes respectively.
Webwereld, a computer news site, asked some of its users about their experiences with the service. The consensus seems to be that it is as good as one can expect from 'free', but not better. Complaints centre on bad connections and slow speeds. One odd complaint is that the operator, T-Mobile, seems to be using German IP numbers. Users get to see the German Google when they want to search, and Facebook warns them that somebody is trying to log into their account from Germany.