Lottery stops giving away bikes, man stops dumping bikes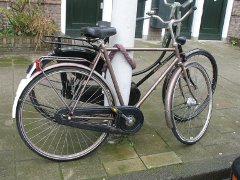 A year ago, a town won 2,000 bicycles from a national lottery that picks its winners based on their postal codes.
Bike shops were not happy, as they claimed they lost business. This year, the national lottery stopped giving away bikes for that exact reason: they kill local cycle shop business.
The lottery used to award 1,000 bikes to winners who lived in the same postcode area. But several cycle shop owners said this was wiping out their business – particularly if the prize fell in a small village.
In other weird bicycle-related news, a 'mentally disturbed' man from Friesland was caught dumping 60 stolen bikes in a canal. Onlookers fished out a dozen bikes out of the water, and the local police helped fish out the rest. The man is apparently getting professional help for his problem.
(Links: opmerkelijk.nieuws.nl, www.dutchnews.nl)