Small town neighbourhood wins 2,000 bikes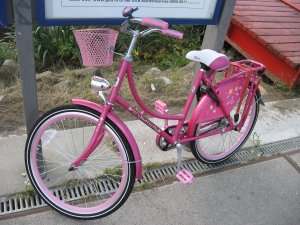 A neighbourhood in the town of Schagen, North Holland won 2,000 bicycles from a national lottery that picks its winners using their postal codes. Normally a few streets win prizes, usually money, but this time it was a bigazz pile of bicycles. That's all really nice, but some man ended up with 14 bikes, which is a bit much.
The bike shops in the small town have told local telly station they were not happy with the possibility of losing business, but in good entrepreneurial spirit, they have stepped up advertising accessories and theft insurance.
Quikc idea: give your 10 extra bikes to the poor? Of course you can also sell them, but obviously not to your neighbours.
(Link: waarmaarraar)
1 Comment »
[…] year ago, a town won 2,000 bicycles from a national lottery that picks its winners based on their postal […]

Pingback by 24 oranges » Lottery stops giving away bikes, man stops dumping bikes — April 26, 2012 @ 12:08 pm