British RAF pilots cycle to the Netherlands for memorial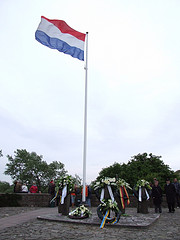 A group of nine pilots from the 99th RAF Squadron arrived in Landsmeer near Amsterdam today after four days of cycling from the UK. They were welcomed with a fanfare by the mayor like heroes. Every year they go to the monument to commemorate their deceased Squadron members. And since the British army is cutting back on expenses, the nine men couldn't fly over and so they decided in true Dutch style to bike 750 kilometres.
The first question RTVNH (Radio and Television North Holland) had for one of them in true British understatement style was "how are your buttocks?".
(Link: www.rtvnh.nl, Photo of Memorial by Bjorn V., some rights reserved)
No Comments »
No comments yet.