Free Dutch films online on YouTube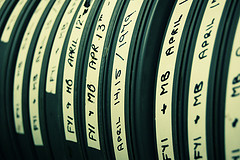 Amsterdam film company A-film has its own YouTube channel offering free, full length films online. There are some 20 films such as Alles Stroomt (Upstream), Ik Omhels Je Met Duizend Armen (A Thousand Kisses) and First Mission. Not all films are in Dutch: there are English-language films such as Bend It Like Beckham, The Promotion and Youth In Revolt (watch here below). As a comparison, competitor Ximon.nl, which has a much larger selection, offers a film like A Thousand Kisses for 3,50 euro.
(Link: www.bright.nl, Photo of film cans by tallfoot, some rights reserved)
No Comments »
No comments yet.