Christian providers attack Dutch net neutrality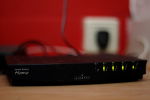 The Dutch legislation to safeguard net neutrality as it was originally drafted had an escape clause for filtering on ideological grounds, but that clause was struck when the Senate passed the new telecom law last week.
Christian providers Solcon and Kliksafe, who filter the web on evangelical grounds, are now planning to sue the Dutch government as the new law threatens their business model. Webwereld quotes Kliksafe CEO Bert Jan Peters as saying, "this law actually limits a customer's freedom."
Although the Dutch telecom law forbids filtering at a network level, it leaves customers the opportunity to use their own filters or a proxy. Peters said, "some of our customers just don't want to be tempted to disable the filter. They want security and peace of mind."
Before taking legal action, the providers will first talk with the economics ministry.
Although I can somewhat sympathise with the providers' stance, you have to wonder where net neutrality will end up if you leave the tiniest of loopholes open. If the providers were allowed to filter on ideological grounds, there should be strict limitations of what they are allowed to offer. In my mind, such a provider would have to a) offer an unfiltered version of every service at the same price or lower, b) advertise these unfiltered services just as prominently as the filtered ones (advertise the difference, for all I care), and c) allow a user to switch from filtered to unfiltered services at no cost.
See also: Court forces paedophile to move to Christian Internet provider