Retro Dutch cycling jerseys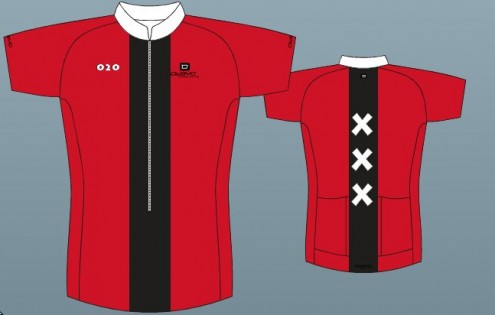 A website that specialises in vintage racing bikes from the Netherlands is about to produce a small collection of retro cycling jerseys, based on the coat of arms of Amsterdam and Utrecht as well as the one of the province of North Brabant. The three XXX (Saint Andrew's Crosses) are part of the coat of arms of Amsterdam and have nothing to do with the modern, fake film rating of XXX, denoting porno films. Oh and 020 is Amsterdam's phone area code, often used in conversation as a synonym for Amsterdam.
The designers wanted to have nice classic looking racing jerseys, but not those heavy wool ones you usually find in second hand shops with sponsoring of companies that you couldn't care less about. Instead they opted for comfort and "being able to be proud of where you come from." I know I'd love a Friesland or Limburg one.
For € 59,95 they'll be making a limited batch of these jerseys if enough people want one. Send them an e-mail (klassiekeracefiets (at) hotmail.nl or .com) and get a nicely designed bike shirt with Amsterdam, Utrecht or Noord Brabant.
(Link: www.nieuwsuitamsterdam.nl)