Floating bicycle roundabout in Eindhoven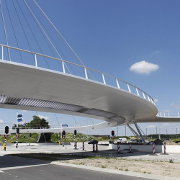 The city of Eindhoven wanted to change the roundabout at the Noordbrabantse laan back to a regular intersection, but figured that this would be too dangerous for bicyclists. Their novel approach? To keep the roundabout for bicyclists, but shift it a couple of metres up into the air.
The engineers of ipv Delft designed a bridge that hangs off a giant pylon in the middle. The pylon is 70 metres high, and 24 cables support the bridge. A concrete nubbin appears to protect the pylon from adventurous heavy goods vehicles.
This video by Omroep Brabant shows what the bridge looks like from above:
The bridge was opened for the first time 3 weeks ago, but closed down again when it turned out that the wind caused the cables to vibrate dangerously. Since then dampeners have been installed that should fix the problem.
Eindhoven could have opted for bicycle tunnels instead of a bridge, but the city felt tunnels lack 'social safety', which Fietsberaad describes as "the extent to which (in this case) bicyclists feel free of threat or confrontation with violence". (In other words, tunnels are dark and may be full of bad guys.)
(Link: Bright. Photo: ipv Delft. Video: Youtube/Omroep Brabant. More photos at Wegenforum)
1 Comment »
[…] The bridge was designed by IPV who seem to be specializing in these sort of crazy work-arounds—check their bicycle roundabout hovering above Eindhoven. […]

Pingback by 24 oranges » 'Underwater' bridge for bicycles in Haarlem — September 22, 2013 @ 3:24 pm