Gay Pride canal parade to feature Turkish boat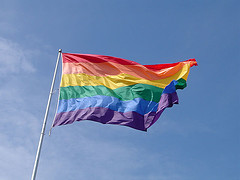 For the first time, Amsterdam's Gay Pride canal parade will feature a Dutch-Turkish boat that fits 80 people. However, the organisers say that it's mostly gay Turkish men on the boat and that they have few lesbians. "Many women are still afraid of coming out of the closet although many of them simply don't have an affinity with the whole Gay Pride thing," explains one of the female organisers.
They could already be full, but the Dutch film in the link says they could use 10 more lesbians. The whole point of the boat is to show that having a Turkish background and being gay goes together in a positive way. And even though they didn't get any entrepreneurs to sponsor the boat, they've only had positive responses, as "emancipation takes time".
(Link: www.lokum.nl, Photo of Gay flag by sigmaration, some rights reserved)
No Comments »
No comments yet.