DJ Tiësto still on top, money-wise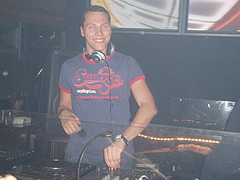 According to Forbes.com, Dutch DJ Tiësto (aka Tijs Verwest, if you knew him from his home town of Breda), is the world's best paid DJ at 22 million USD. The number 9 spot is taken up by another Dutchman, DJ Afrojack, with a mere 9 million USD. He's the one that apparently 'taught' Paris Hilton how to DJ, but then that happens when you date a DJ like him.
And surprise surprise, there are no women on the list.
And to rub that fact in, a reality talent show entitled Beauty and the Beat wants to teach poor women DJs the ropes in just one style of music, house, some time next February. Imagine having real talent and showing the world you can crank out DJs like Afrojack can teach Paris Hilton. The promotional video asks, "Do you have the looks, the skills and the drive?" in that order. It all sounds so condescending, so we'll keep you updated.
(Link: www.ibtimes.com, Photo of DJ Tiësto by PauliD, some rights reserved)
No Comments »
No comments yet.